JINYI Honored Best Supplier by Powerjet
Author:admin
Date:2015-03-12
---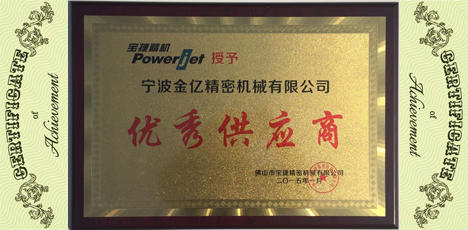 Introduction:On Janurary, 2015, JINYI was honored best supplier by Powerjet.
On Janurary 2015, Powerjet precision machinery awarded JINYI their best supplier, this awards is based on general technology strength, product quality & service quality by powerjet suppliers. And it's high affirmation for JINYI's good quality product & service for Powerjet company.
Powerjet is a professional manufacturer of research and development, production, sales, after sales service of Injection molding machine, & Blow molding machine, and pipe extrusion machine. Powerjet has a large number of experts in plastic machinery industry and management personnel with ability, who can have the profound study and understanding on the customer needs, market change, machine technology and industry development. The professional team achieves several advantages of Powerjet plastic machinery "energy saving, high performance, high speed, precision".
JINYI alwasy focus on product research & quality control. We introduced series of advanced equipment & management system. For every request of our customers, JINYI make sure 100% satisfaction & offer better solutions according to different situation. And won customers' recognization.